Spider-Man: No Way Home Trailer Dropped - The Loop
Play Sound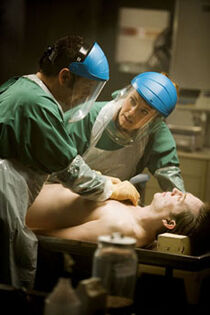 "Autopsy Room Four" is a short story written by Stephen King. The story was originally published in the 1997 anthology Robert Bloch's Psychos and King's own collection Six Stories, and was later included in King's 2002 collection Everything's Eventual.
Summary
Howard Cottrell awakes from some form of unconsciousness to find himself laid out in an autopsy room. As the doctors prepare to begin, Howard struggles to come to grips with what is happening. After realizing that he is not dead, he deduces that he is in a paralysed state, and struggles to somehow inform the doctors of this fact before they cut into him.
While prepping Cottrell's body, the doctor in charge, Katie Arlen, finds shrapnel wounds around his nether regions. While she is absent-mindedly examining these, The EMT rushes into the room to inform them that Howard is still alive. Katie looks down - to find herself holding Howard's erect penis.
In a humorous afternote, Howard explains that he was possibly bitten by a very rare snake, causing the death-like paralysis. Another one of the doctors discovered that same snake in his golf bag and was promptly bitten. It is presumed that he will recover. Howard adds that he and Katie dated for a while, but broke up due to an embarrassing problem in the bedroom: he was impotent unless she was wearing rubber gloves.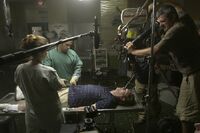 Adaptation
The story was adapted into the seventh episode of the TNT miniseries Nightmares & Dreamscapes that aired 2 August 2006. Richard Thomas portrayed Howard Cottrell. The episode was directed by Mikael Salomon.
The story also served as the basis for the Lost episode "Exposé."