Wiki Targeted (Entertainment)
Play Sound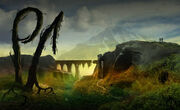 19 is a mystical number that appears regularly throughout the works of Stephen King, particularly the Dark Tower series.
It is the eighth smallest prime number, and the tenth smallest postive odd number.
Notable Occurrences
In the Man in Black's note, "nineteen" is said to be the keyword that will unlock Nort's memories of what he'd seen while he was dead.
Names containing nineteen letters.
Dennis Edward Hazlett
Althea Pierce Dunning - 22/11/63
Story titles containing nineteen letters:
Phrases containing nineteen letters:
"The Coming of the White"
"Hyperborean Wanderer"
Abstruse Occurrences
In The Shining, the most dangerous room in the Overlook Hotel is room 217. 2 + 17 = 19
The license plate number of Lisey Landon's BMW is 5761RD. The sum of 5 + 7 + 6 + 1 = 19, while RD are the initials of gunslinger Roland Deschain.
N. explains to Dr. John Bonsaint that half of 3728 is 1864, and that the digits of 1864 add up to 19, "a powerful odd number."
Claire, Sam and Joe McClatchey live at 19 Mill Road in Chester's Mill, Maine
Jackie Wettington and Linda Everett find a scrap of paper with 1693, the code to disarm the alarm at the WCIK radio tower, written on it. The sum of 1 + 6 + 9 + 3 = 19.
Aidan Appleton borrows a Shawshank Prison workshirt bearing the prisoner number of 9091. The sum of 9 + 0 + 9 + 1 = 19.
Jim Rennie is assigned to room #19 at Catherine Russell Hospital in Chester's Mill for treatment of his cardiac arrhythmia.
Pamela Chen retrieves Bus 19 from the Chester's Mill bus depot to transport residents on Visitor's Day.
Wesley Smith was born on 19 July 1974.
In UR 7191974, Ernest Hemingway died on 19 August 1964.
Both Frank Faraday and William Blakely wore the uniform number 19.
The modern-day ambulance from Kingdom Hospital is Unit 19.
In "The Dead Zone" John Smith's last bet on the Wheel of Fortune game was 19.
Page 129 of "the Dead Zone" "Herb turned fifty-two, Vera fifty-one, and Sarah Hazlett twenty-seven. Johnny had been in his coma for four years." (52+51-27)/4+19
In the novel 11/22/63, the game cribbage contains the phrase "Mystic 19, the so called impossible hand."
In the novel, 11.22.63, the address of the Dunning family is 379 Kossuth st. 3+7+9=19
In the novel, 11.22.63, Jake stores his manuscript in lockbox 775. 7+7+5=19.
In 11-22-63 the telephone numbers add up to 19 and there are several addresses that do as well.
In the novel Elevation, the character Deirdre is a champinon runner who uses the number 19 as her lucky number. 
Other Occurrences
In religion
In games
A standard game of Go is played on a 19-by-19 board.
19 is the jersey numbers of:
In music
In literature
In television
Appearances